In the recent Global Hunger Index 2020, India ranks 94 among 107 countries, the report was out this Friday. According to the report, these 107 countries come under the 'serious' category. India with a score of 27.2 has a 'serious' level of hunger.
What Does This Index Say?
In Global Hunger Index 2020, India is behind Indonesia(ranked 70), Nepal(ranked 73), Bangladesh(ranked 75), and Pakistan(ranked 88). Out of the total 107 countries, there are only 13 countries fare worse than India. These include countries like Rwanda (97), Nigeria (98), Afghanistan (99), Liberia (102), Mozambique (103), Chad (107). The report says, 14 percent of India's population is suffering from undernourishment. It also says that the country recorded a 37.4 percent of child stunting rate. Stunted children refer to those who have a "low height for their age, which reflects chronic undernutrition."
What is the Global Hunger Index 2020?
The Global Hunger Index 2020 is jointly published by Welthungerhilfe and Concern Worldwide. It is a peer-reviewed annual report designed to comprehensively measure hunger. It is to track hunger at regional, national, and global levels. They analyze the data for the whole year and publish the reports in October each year. On its website, they calculate GHI scores each year. This is to assess setbacks and progress in overcoming hunger.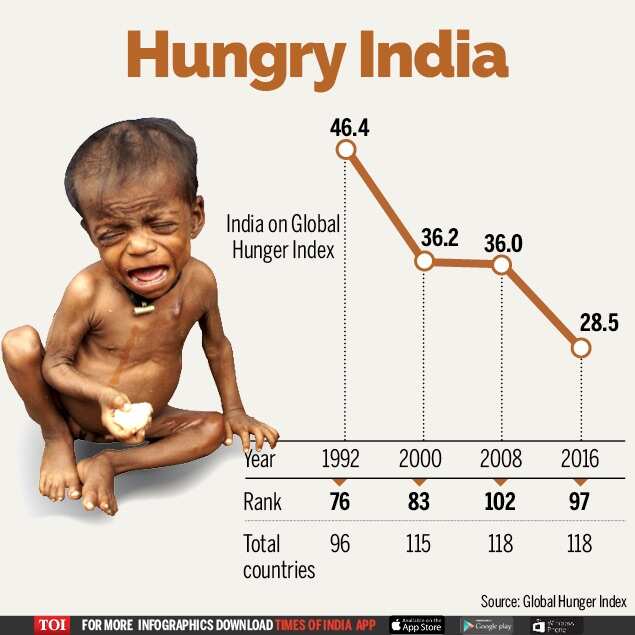 The calculations are done on the basis of four indicators:
Undernourishment
 Child wasting
The percentage of wasted children under the age of five. (This means, who have low height for their height, showing acute undernourishment)
Child mortality: the mortality rate of children under the age of five.
Thee are five categories to classify hunger situations:
Low when GHI ≤ 9.9
Moderate when GHI is between 10.0 and 19.9
Serious when GHI is between 20.0 and 34.9
Alarming when GHI is between 35.0 and 49.9
Extremely alarming when GHI ≥ 50.0
From 1991 to 2014, data for India, Bangladesh, Nepal, and Pakistan is painful. It shows that stunting is concentrated among household children facing multiple hardships. This includes poor dietary diversity, household poverty, and low levels of maternal education. The report says.
Current situation and Future Predictions :
In several countries, the situation is improving very slowly. On the other hand, some countries have worsened the condition. For 46 countries in moderate, serious, and alarming sections, from 2012, GHI scores have improved. However, for 14 countries in all of these categories, GHI scores show the conditions to be worse. "The latest GHI statistics show that 37 countries would most probably fail to achieve low hunger by 2030," the report says. According to previous reports, India ranked 103 out of 119 countries in 2018 under the global hunger index.